Additional Ministries
Cradle Roll
The cradle roll provides ongoing ministry and support to the families of St. Paul's baptized infants.
At baptism, the family is provided with a special baptismal book. The infant is added to the nursery roll at St. Paul's. The infant and family receive ongoing support from St. Paul's, through age three, in the form of cards and prayers. The materials are provided by the Ladies Guild and Sunday School.
For further information about the Cradle Roll please contact Diane Ross through the church office (414) 541-6250.
Homebound Ministry
Pastor or Elder Visits
Pastor or elder home visits can be arranged to address individual needs, for prayer and for reception of the Lord's Supper in the home. Call the church office (414-541-6250) to arrange for a visit from the pastor or elder.
CD and Tape Ministry
Compact disks and cassette tapes of the Saturday worship service are available. Call the church office (414-541-6250) to request a CD or tape.
Radio Ministry
Our Saturday worship service can be heard the next morning, Sunday at 8:00 a.m., on radio station WJYI-1340 AM and 88.7 FM
Birthday Baskets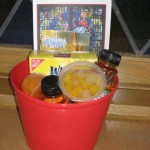 Did you ever wonder where the person is that used to sit two rows in front of you? Did you ever wonder where the little grey haired lady who sat in the front row has been? Well, he or she is probably one of St. Paul's shut-ins. St. Paul's has approximately 45+ shut-ins. Many of them have no way to get to church and for one reason or another don't get many visitors. One way we can show these members that they are still thought of is to stop by during their birthday month. Each month we put out Birthday Baskets for the upcoming months shut- in Birthday. All you need to do is take one home, fill it and deliver it to the person. If you are unable to deliver the basket, simply take it home, fill it and return it to the church office and someone will deliver it for you.
Human Care
Elizabeth Ministry

Elizabeth Ministries is continuing its mission here at St. Paul's to support the women and families of both the church and school. This will be an ongoing process that we hope will continue to slowly grow as the months and years go by.
Elizabeth Ministries is an international organization and we have officially founded our own chapter right here at our church. It is designed to support women and their families during the joys, trials and sorrows of the childbearing years and beyond.
Elizabeth Ministers are volunteer representatives of a faith community. They are not counselors, but are present to offer peer support, friendship and mentoring only along with educational and inspirational resources. Ministers are women who are willing to share their presence, stories, and experience in the hope that these will encourage another woman and her family.
An important aspect of Elizabeth Ministries will be the Rosebud Program.  It will be a part of the church ministry every other month and we encourage anyone to participate in it. It is a way for you to communicate with us so we may offer families prayer and support during the tender times of bringing new life into a family or during the struggles of doing so.
The colors of the roses are as follows:  Yellow-Wanting a child Pink – Pregnancy Red – Birth or Adoption White – Loss (through miscarriage, stillbirth, newborn death, or abortion) Purple – Grandparents concerns Blue – Troubled Times (a child has an illness or other troubling issues)
We have decided that the roses will stay in the vase at church as long as you desire continual prayer for the issue at hand. It is a way for you to remain anonymous if wish but still know that we are praying for you. Prayer cards will be attached to each rose. When you feel you are ready to remove the rose, you may do so and replace it in the basket and keep the prayer card and initial card that you filled out if you wish, or you may keep the rose and the cards attached.
Keeping the rose is an option we have decided to give our members as some people have asked to purchase them for various reasons. We decided that we will gladly allow you take and keep the rose if you so desire.
Please remember Elizabeth Ministries in your prayers and if you wish to join our group or get more information, contact Julie Avila
javila7@wi.rr.com

.